SYZAX is designed to be the most simple, flexible and powerful linear axis system for automation. It offers a very high force / size ratio, great mechanical precision, with an extreme simplicity for wiring and assembling.
The SYZAX product range is available in 2 series: the compact version C and the heavy version H.
Total height for an axis is only 65 mm for compact series and 80 mm for heavy series, 130 mm for two compact XY axes and 160mm for two heavy XY axes. As standard, track length can be freely defined from 300 to 3000 mm by 1 mm step (longer lengths on request).
Axes can be assembled on each other using only a few screws and locating pins. Force compensation or protection bellows are available as options and can be retrofitted easily on existing axes.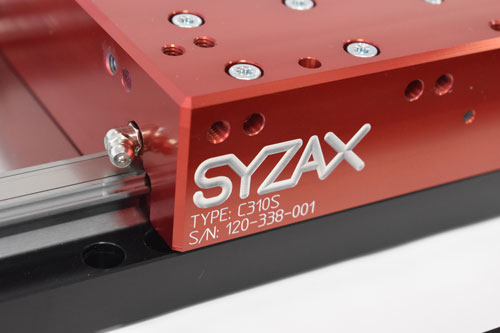 The wide range of SYZAX products make it possible to create all imaginable cartesian robot configurations. Rotary modules complete the SYZAX linear range and offer additional flexibility.
General features - compact series
General features - Heavy series (in addition to Compact series)